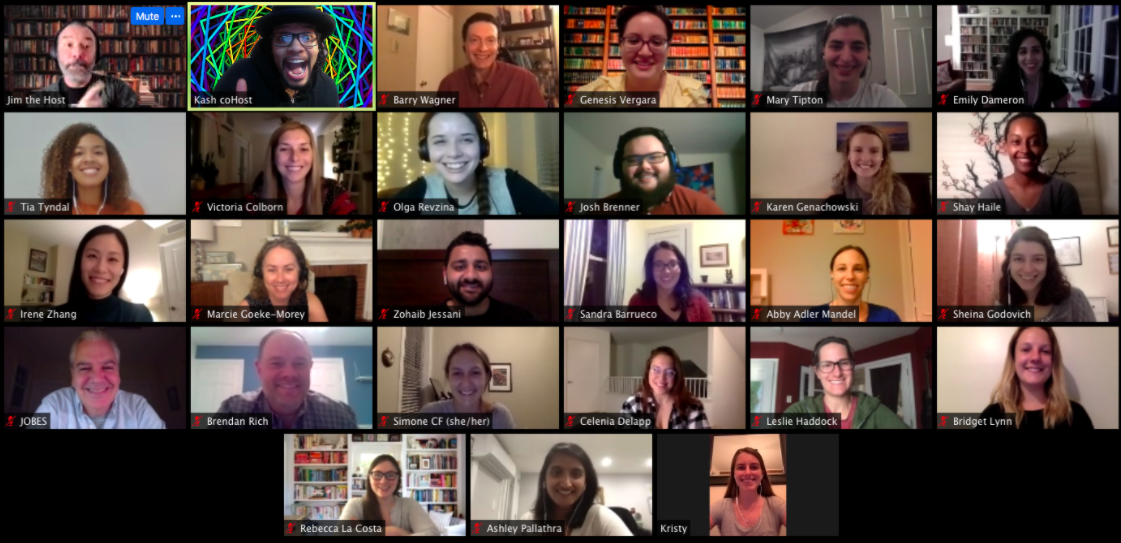 The Clinical Psychology Doctoral program hosts a gathering every Fall to welcome the first-year students to the program. Although this gathering typically happens in-person, with the requirement to stay physically distant due to COVID-19, we had to get creative this year. The second-year students usually cook a meal for everyone to enjoy, but this year they were tasked with coming up with a virtual way to connect. Thankfully, they found Teambuilding.com's Virtual Trivia. 
Teambuiling.com handled all of the logistics and worked with us along the way to create the best online gathering we could imagine. From setting up the Zoom link, to leaving us time before and after trivia for program updates, to creating all of our trivia teams and keeping track of all the points. The questions were fun and engaging and spanned a range of general trivia knowledge. Our hosts Jim and Kash were hilarious and kept everyone entertained for the hour-long game. 
We had some pretty stiff competition from both the faculty and students. Each team was placed in a breakout room and was tasked with answering a series of trivia questions in just ten minutes. There were three rounds of trivia and a lightning round with all of the teams together. The teams Smartinis, Friendly Cardigans, Over Worked and Under Paid, and Optimistic Donuts all put up good fights, but it was Behavioral Activation that stole the lead! Congratulations are in order for Dr. Rich, Dr. Jobes, Dr. Wagner, Irene, and Michael! 
We could not have asked for a better group activity for us to celebrate our incoming class and be able to gather as an entire program. In days filled with disconnection and stress, we were able to find time to relax, to gather, and to be engaged with one another. 
We received high praise from everyone who participated, and their smiles shown above are a testament to how wonderful our gathering was this year. If your department is looking for a virtual way to gather teambuilding.com offers a variety of online activities, from Online Office Games, to Tiny Campfires, to Tea vs. Coffee, they have something for every group.